Course News
29th June 2017
I hope you'll agree the course is looking in good shape and playing well. The positive comments received are always welcome and myself and the greenstaff are pleased so many members and visitors are happy with the performance of the golf course.
The unusually high temperatures and dry period during mid-June meant the new irrigation system was used to its full extent and showed its capability, using high levels of water across the whole system which includes greens, green and bunker surrounds, approaches and tees. What a wonderful asset the Club has invested in and a true legacy to the progressive and forward-thinking nature of the Club, for its members, present and future.
Of course, there are challenges, and always will be when working with a natural product such as turf grass. Weather is the most influential element upon the course and managing and adapting to ever changing weather systems is a major part of the job. We had a significant outbreak of disease microdochium patch (fusarium) straight after the Staffordshire Amateur Championship, which usually is nothing to be concerned about during summer and rarely needs treatment. However, on this occasion it did need urgent treatment and my role here is to ensure that when things like this occur, we manage the situation in a correct manner and use our experience and knowledge to gain the best result in the shortest space of time, which is what we achieved.
We have two apprentices at present, one having been with us since January. These young lads study for a diploma in sportsturf through on-line learning and a monthly visit from their college lecturer, together with on the job training. The greenkeepers association BIGGA's new government approved apprenticeship is much improved, where they cannot be 'fast tracked' through the qualification, which culminates in an end of course exam which includes an external assessor testing the knowledge they have learned through an 'on course' examination. The student then ends up with the traditional method of either; fail, pass, merit or distinction, allowing any employer to gauge their true standard. The challenge for us is to continually improve these young greenkeepers and keep them motivated and focused during their learning experience, together with attempting to maintain the high standards we set the staff.
We look forward to presenting the course as best we can for you during the summer months and wish you all a great summer and good golf! Please use and embrace the fabulous facilities at your disposal which include; indoor practice facility, driving range, well stocked Pro Shop, good quality food and drink in the Clubhouse and of course, the best quality golf course for many, many miles around.
Ed Stant
Course Manager
25th January 2017
Bunker Renovation Update
The planned greenside bunker renovation began on Monday 23rd January with the intension to evaluate every individual bunker on its needs, having collected information on each bunker over the course of the past few years. Thank you to Peter Thompson for his contribution in surveying all the bunkers following heavy rainfall during last summer and his generosity in providing us with his bunker drainage solution.
As previously explained, many bunkers will need nothing other than sand replacement, others shall have new or additional drainage installed and some shall need bank adjustments to divert water away from the bunker, rather than into the bunker as some do at present. I would like members to note that no matter how much drainage or bank adjustments are made, even the most respected golf course drainage experts say there are times when the sheer volume of rainfall in a short period may impact on the bunkers performance by holding water, so our aim is to move this water away from the bunkers as quickly as possible. On the same token, we are mindful that although we want to stop water running into bunkers, we don't want to lose the characteristics of some bunkers by altering the banking too much. A good example is the 13th; we want to stop water lying in the bunkers which is caused by run-off into them, but if we alter the banks too much they will not gather a ball, which is the main objective of those greenside bunkers.
So far, we have completed the 1st and 17th greenside bunkers and have begun the 10th today, before moving on towards the 16th and 3rd before the weekend.
We have chosen our desired sand and are adding 25mm of sand on the faces and 75mm sand in the bases. The sand is being firmed by treading, but not by means of a whacker plate because I don't want to compromise the potential drainage capacity of the bunker bases by closing the natural pore spaces beneath. Rainfall will then aid the natural firming of the sand over the remainder of winter, ready for the season ahead. Members are asked for their patience during this work and also once the bunkers are finished, because you may find the playing of bunker shots will have changed due to the level of loose, fresh sand within them. I am sure that the Professional staff shall be happy to help you improve your bunker play by the way of a lesson and how to play bunker shots from the new bunkers, should you need assistance!
The pictures below show an example of us adding drainage to the back-left bunker at the 1st by means of a drain from the bunker centre to a large sump outside of the bunker. The other three bunkers at the 1st already have good drainage and the liner at the back right has been removed and replaced with a liner over the drain alone and a slight adjustment to the bank on the greenside, which was allowing rainwater to run into the bunker from the green.
This work is hugely labour intensive and to get them done as quickly as possible, to stay within budget, we intend to maintain most greenstaff on the project as much as possible. I am mindful that the rest of the course still needs maintaining for play, but I am hoping you accept this work is for the benefit of all and thus will allow us some grace with the rest of the course, while we concentrate on the bunkers.

Back left of 1st – before drainage Drain being installed with aquadyne panels
to go above as a filter
Drain to sump outside of the bunker – including happy staff! Completed bunker – note we are to introduce 'flat' raking around the outside to
help the ball roll to the bunker base
On a separate subject I would like to welcome Ross Birks to the greenstaff at Trentham. Ross is 17 years old and started this week as an additional apprentice, alongside our other apprentice Reece Tomalin, who has settled in extremely well over the last six months. I am sure you will join me in welcoming Ross to Trentham Golf Club and wish him well for his career in greenkeeping.
Ed Stant
Course Manager
20th January 2017
Greens Winter Work 2016/17 Update
Other than routine maintenance on the course over winter, which takes up around 30% of our time, we set aside time during the winter for project work. This winter we are concentrating on three areas;
Ecological Management – the Club now have an Ecological Management Plan drawn up by a leading Golf Course Ecology expert, to be followed over the next 5 years. This plan has now been approved by the Greens Committee and shall consists of some selective tree removal, fringing rough development and tree planting from this winter/spring and beyond.
Greenside bunker Renovation – removal of old, contaminated sand and liners, checking/improving drainage, re-shaping inside any misshaped bases, altering outside banks if necessary to divert rainwater away from bunkers rather than into bunkers, and finally adding new sand.
Installing an artificial turf strip towards the rear and side of the practice area for winter practice and all year-round lessons on the range.
Week commencing 23rd January will see us begin our planned work of greenside bunker renovation. As detailed above we intend to improve the bunkers with this being the first step. Each bunker shall be evaluated on an individual basis, once the sand has been removed. This work shall be extensive and possibly inconvenient to members at times. The result should leave us with less wash-in and better quality bunkers moving forward. I must stress however, that no amount of drainage or bank alteration work can account for the occasional deluge that mother nature throws at us, despite our best efforts.
Once the work gets under way I shall update you with our progress and keep your fingers crossed for some help from the weather!
Ed Stant
Course Manager
1st November 2016
November sees us edging towards winter golf and changes in the course that makes golf slightly less enjoyable! We have been blessed with a fabulous Autumn which has seen the course play just as well, if not better, during October than at any other time this year. The grass was not growing so quickly, enabling us to get other jobs done and the slow growth meant our greens were naturally quick, without having to work so hard to achieve speed.
The summer was difficult for us for two reasons; two good quality staff leaving us and the unusually fast growing conditions, which meant we were constantly cutting and blowing away debris without getting to other, important tasks, such as fairway divotting, strimming etc. However, we have been pleased with our new apprentice Reece Tomalin who is fitting in well considering he has only just turned 16! Our other new arrival Liam Bashford, who joined us from Yorkshire, back in August. We wish them both well and hope they enjoy working at Trentham.
At the last greens committee meeting it was agreed to do something with the bull-rushes in ponds and the unsightly path ends, which have been deteriorating over the past few years and exaggerated following last winter's wet weather and the instillation of the irrigation system. Once the cutting was less rigorous we hired a 14ton excavator and removed a proportion of bull-rushes from the ponds (further removal shall be done by hand during the winter) and the removal of poor grass coverage at path ends. It was agreed to trial a rubber matting at some path ends with appropriate seed applied to try and establish a decent grass coverage whilst being protected by the mat. These areas are all but complete and time will tell if this has been successful.
The three pictures above show the path end at the 8th tee having had the poor material removed to a depth of 200mm and replaced with free draining organic root-zone before rubber path matting laid, together with rye/fescue grass seed. All outside areas then turfed with rye/fescue imported turf to finish the job.
You will probably have noticed the unsightly "brown" or "yellow" areas around green collars and bunkers. This is a follow up from work done several years ago to remove the unsightly rye grass "clumps" that hinder the short game around greens and look poor. We have recently sprayed these areas with a chemical known as Rescue (pinoxaden and cloquintocet-mexyl) which kills course grasses, such as rye grass and Yorkshire fog. It also knocks back other grasses like meadow grasses and bent grass but these grasses recover and come back as before.
We have seeded these areas with our new disk-seeder, applying finer fescue and bent seed and applied a granular fertiliser, ready for recovery, which should become noticeable before Christmas. Any further treatments will be carried out in Spring or next Autumn, depending on weather conditions.
Walkway to the 10th tee from 9th green Collar alongside 9th green – three weeks after "rescue" application
November sees winter rules come into operation and the start of time consuming tasks such as; fairway scarifying, long rough cutting and collecting, verti-draining walkways and fairways and above all, leaf blowing and collecting, which will be almost non-stop from now until Christmas!
Ed Stant
Course Manager
2nd September 2016
Having recently had a discussion about the frequency of mowing, primarily greens, I have detailed below our current policy on mowing and mowing frequency of greens, together with factors that can and do, alter how the greens perform from one day to the next;
From late Spring until mid-autumn the greens are cut every day, other than the odd occasion when it is not possible:-

On the rare occasion we have been unable to mow greens it has been following sand dressing, which is always during the week and usually on a Wednesday or Thursday.
We have been unable to mow the greens due to them being too wet (waterlogged) twice this season.

We did change our working pattern two years ago in 2014 as labour intensive pedestrian mowing was introduced and mowing on a Tuesday, Thursday and Sunday was replaced with ironing (rolling), for the health of the greens. This did not work as the greens did not perform as well as I expected regarding ball roll, smoothness and trueness and the trial was axed by the end of that summer.
We mow with our pedestrian mowers on Monday, Wednesday and Friday at a height of 3.5mm
We mow with our triple ride-on mower on Tuesday, Thursday, Saturday and Sunday at a height of 2.7mm (the two mowers are different heights because they perform differently and those heights of cut result in the same weight of grass clippings being removed and in effect give us the same "actual" or "true" height of cut)
We have a bench set height of cut (HOC) of 3.5mm (or 2.7mm) from late May until late September (weather dependant) and this does not change.
We iron (roll) on Tuesdays, Thursdays and some tournament days depending on various factors, mainly weather.
We only deviate from this policy for a particular reason, such as a major tournament, where we will increase the frequency of rolling but nothing else.
If the greens become too dry, which is very rare, we will miss out the rolling because they would become too fast.
We stick to our agreed heights of cut for the health of the greens, trying to balance the needs of the greens and the expectations of the members.
Despite the greens being cut every day, at the same heights every time, they will perform differently depending on many factors, such as;
Rainfall
Levels of dew
Time of cut
Fertiliser or Growth regulator applications and timings
Ground conditions (soft greens = slow, dry greens = fast)
Further, during the week as we mow later in the day than weekends, we have time to remove the dew before mowing thereby resulting in a cleaner cut. In an ideal world we would never mow anything damp, but at the weekend this is not practical and at weekends there is invariably a heavy dew when the greens are cut at approximately 6.30am on a Saturday and Sunday.
Finally, we pedestrian mow three times a week and would ideally do that every day but cannot because of time. When we do mow with the ride-on triple mower we always "block cut" at an angle so you don't see any triple mower stripes, which would detract from the pedestrian mower stripes. This has been policy for two years now which has worked well.
Ed Stant
Course Manager
July 2016
The weather over the past month has meant we are continuously chasing our tail cutting grass and having to blow away the debris caused, as the plant has not been drying out sufficiently during the day. The semi-rough suffers the most from this and members are possibly not aware that we are currently doubling our labour time having to blow away the debris once it's cut. We are also having to mow more often than is normal during the height of summer as the plant is growing more than we would normally expect at this time.
Despite the weather, the course is receiving many plaudits for the way it is playing, especially the greens, which are performing well, despite the increased rainfall they have received. The merits of our aeration strategy and sand applications may come to fruition during periods like this. Green speed is an emotive subject and we are always trying to balance the need of the greens' health against the need for members' demands. We are currently cutting every day (Monday, Wednesday and Friday with pedestrian mowers and Tuesday, Thursday, Saturday and Sunday with a triple mower). We also iron on a Tuesday and Thursday (behind the triple mower cut) and occasionally at a weekend, if competition demands. The height of the greens has remained at 3.5mm since late May and the speed only varies dependant on the moisture within the plant (the drier the quicker).
July sees us short of labour as Alex Brougham left at the end of June to take up a position at the RAC Club in Surrey. Clint Woodall left on 8th July having decided it was time for a change. We send our very best wishes for the future to both and wish them well.
They are replaced with Reece Tomalin, who at 16 is the youngest person I have ever employed and takes on the role as apprentice greenkeeper. Reece has the unenviable job of having to learn his trade at our busiest time and I trust you, like us, will give Reece time to adjust to working life after school. The other new staff member is Liam Bashford from Yorkshire, who is moving closer to his girlfriend in Rugeley. Liam is 24 and has been greenkeeping for 5 years. Liam starts on 8th August, when we will be back to being fully staffed, albeit a little short on experience.
We have also been discussing potential winter projects at the latest Greens and Board meetings and once agreed, can disclose more to members. However, it is not a secret to know that high on our list of priorities is bunker refurbishment, drainage, practice area improvements, tee levelling and path improvements.
We are also looking in to the merits of having a complete Golf Course Ecology Plan, drawn up by a specialist golf ecologist, which would form the basis of our course maintenance strategy over the next period in this Club's future. The plan would include all woodland, waterways, hedges, roughs, wildlife and more.
Ed Stant
Course Manager
April 2016
Course News and Irrigation Update - Thursday 21st April 2016
The weather has finally relented and we can now see shoots of recovery after the worst winter I could ever image. Continuous rain, major construction work and finished off with 62 cattle over the course left myself and all the green staff wondering if a change of profession would be advisable!
After four days of dry weather and more dry, although colder, weather forecast we can begin to see signs of our quality golf course once again. Regular mowing, sand dressing and fertiliser applications are beginning to take effect and I hope you can see we are finally moving in the right direction (far more so than my football team!).
We now focus on repairing and levelling the worst areas from winter damage and hope to get the course in the condition we all expect it, within the next few weeks. Some areas, such as path ends, heavy traffic areas and the first fairway will take a little longer, given we need a little help from mother nature with some warm weather, to help us on our way.
On Wednesday 20th April we had a snagging meeting with our irrigation consultant and contractor. The contractors now have a comprehensive list of items to be addressed before our final handover meeting on 11th May. This will include full training for the greenstaff on the repair and maintenance of the sprinklers and wearing parts, full use of the PC system that controls the irrigation system and the radio remote control system used to operate it on a manual basis. Once this is complete and the Club and consultant are happy, we accept the system and the various retentions per the contract take effect. We will then be looking to demonstrate the irrigation system to members at some point during the summer once we are completely up to date with its capabilities and uses.
Next week we have an ecology visit from STRI (Sports Turf Research Institute) where their head of ecology will be undertaking a review of all matters to do with the ecology at Trentham and making comments on works undertaken over the past several years and an agreed plan moving forward. This is primarily on the woodland areas, ponds and any other areas of ecological significance.
We have a new apprentice started on Monday 18th April. Daniel Bentley, 17 from Barlaston has successfully completed a week's trial and we look forward to getting to know Daniel over the coming months. I am sure all the members will join me in wishing Daniel the best of luck and an enjoyable future at Trentham on the greenstaff.
Finally, I would like to thank all those members who have been sending me and all the staff their kind words recently and I very much appreciate the support we get at Trentham from the members and Board, as always.
Have an enjoyable year and make the most of the dry weather. Don't forget, this is your leisure time so enjoy it and please remember everything we do is always for the benefit of the course and subsequently, the members.
Ed Stant
Course Manager
March 2016
Irrigation Project Update - Friday 4th March 2016
Our irrigation contractor Irrigation Control, have completed the irrigation installation and have left the site. Although they have done significant snagging and testing, they cannot complete all their snagging and rolling until certain areas of the course dry out, which is still some way off during the present wet weather conditions. Our consultant, Roger Davy will now come in and do the final snagging for completion by Irrigation Control once the ground conditions are improved, potentially late March or early April. It is not until this process is concluded that final handover is completed and the system is signed off and our warranty begins.
As I am sure you are aware the weather has been dreadful all winter, so much so both Rick, our contractor supervisor and I agree it has been the worst winter we have either experienced for continuous wet weather. It has made both our lives exceptionally difficult and one I hope not to repeat again in a hurry. The remedial work for us to get the course to the standard we all expect will be challenging and will need some help from Mother Nature to determine how quickly that process is but rest assured, the course will recover from this winter. It has highlighted our weakest areas of the course which need addressing, should these weather patterns become more frequent than at present and so drainage is something we are going to focus on moving forward.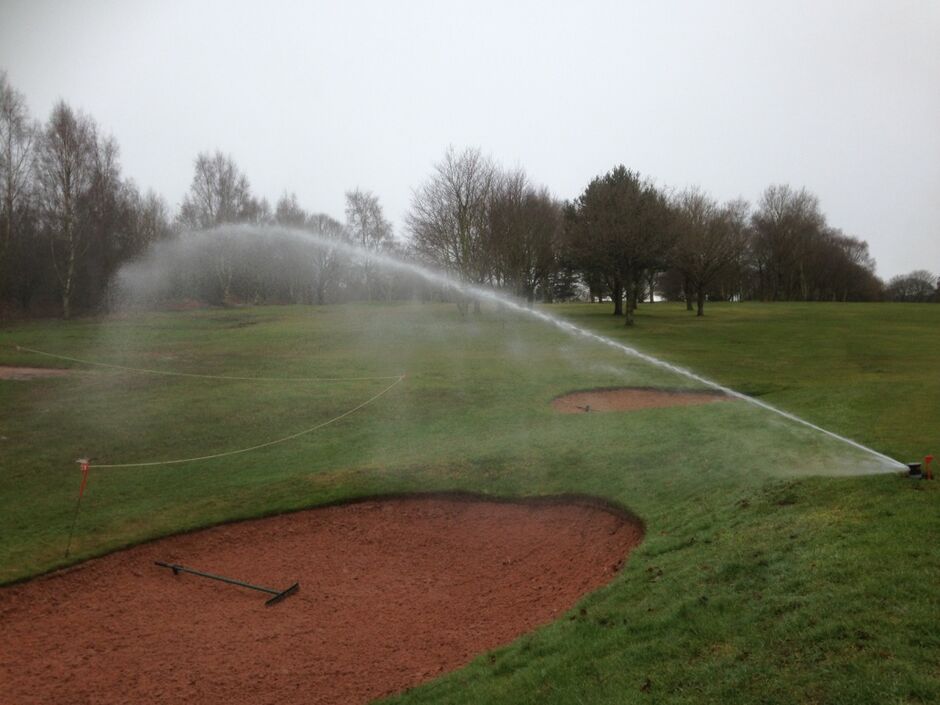 Above - Our new irrigation system has the ability to water the
greenside surrounds: bunkers, banks, south facing slopes etc that
dry out quickly; all independently from the greens irrigation.
I would like to thank all those members who have shown great patience during the ongoing work this winter and respectfully ask for further consideration while we get the course back to its best following the past four months wet weather, which includes dressing and seeding, turfing and rolling. Hopefully we shall get a nice warm spring and summer so we can demonstrate how great our new irrigation system is!
Ed Stant
Course Manager
---
January 2016
Clarification on course playability, buggy use and traffic during winter
The exceptional weather of the last few weeks , together with the challenge of managing winter wear with outside contractors on site fitting a new irrigation system, has resulted in recent decisions to close the course. These decisions are based on careful analysis of several factors and this would seem to be an opportune time to share both the rationale behind these subjective decisions and the view on buggy use.
Trentham Golf Club is a traditional members' club with higher than average fees and lower than average footfall. This philosophy results in higher member expectation which needs managing carefully, especially through the winter months. At the forefront of my mind when considering course playability, is the impact on the course by the start of spring of any decision taken and I take great professional pride in ensuring the course is presented in the excellent condition expected at the beginning of the golfing season. I would like to think that the course condition by Easter in recent years, justifies my confidence in decisions we take during the winter months. I have outlined below some further detail to the thinking behind these course playability and buggy use decisions:-
I am mindful of the balance between giving high expectant members the year round golf many expect on greens and as many tees as possible, for as long as possible. I am sure you are all aware than not having temporary greens is very unusual; possible partly due to the annual maintenance work carried out on them each year, but mainly due to the fact that player levels are relatively low at Trentham during the winter and so the greens can just about manage the traffic levels they receive.
A decision to close the course or not in poor weather is based on a similar thought pattern; low levels of play mean that if 8 members want to play in sodden conditions then why stop them? Those 8 members are not going to do any long lasting damage. If we were like many other courses and 80 members wanted to play every day, then our philosophy would have to change because the course could not cope with that level of traffic on a daily basis. This is certainly the thought up until late January at least. Once we edge closer towards spring I might want to protect the course a little more because spring is the vital time of year that will determine how quickly the course will react once warmth returns to the soils.
Why do we allow buggies on the course in winter when others don't? This is simple; the law states that we cannot discriminate against those who need a buggy to play golf (as outlined in England Golf guidance). In my opinion, other clubs that ignore this are breaking the law. Regardless of the law, the limited number of buggy users in winter is relatively low and any potential damage caused is purely superficial and not long lasting. Yes we want to keep buggy use to a minimum, but if those who can play without one do so, then the few that need one to play can enjoy some winter golf like everyone else. However, there may be some occasions when, due to health and safety reasons, buggies are not allowed access to all the holes open to non buggy users.
I have heard it said that the course is closed to all if it is not fit for buggies. Hopefully after reading the above you will realise this is categorically untrue. If the course is fit to be played after taking into consideration golfer numbers, weather forecasts, water levels, frost, ice, recent damage, the calendar, diary etc, etc then the course will be open, with maybe some restriction to buggy users due to health and safety.
---
December 2015
Irrigation Update
Our irrigation contractor, Irrigation Control has now broken up for Christmas and will return on Monday 4th January, which seems a good time to update you on their progress.
All main line pipe work and greens installation is compete, together with 11 sets of tees. The weather has been very much against us all over the past six weeks which has resulted in them taking longer than anticipated, in an attempt to limit the superficial damage caused. Areas installed over the past two weeks have not been rolled so as to damage soils structure and will be rolled once weather conditions improve. The seven sets of tees remaining (2nd, 3rd, 11th, 12th, 14th, 17th and 18th) together with installing the pump set and PC system will be completed in the New Year. I would anticipate the remaining work taking between two and four weeks, depending on their staffing levels and weather conditions.
I appreciate the upheaval may be of concern for some members but rest assured all damage will be repaired in time for the golfing season next year. We would much prefer to get the work competed and them off site as soon as possible so we can leave as long as long as we can for the healing process to take effect.
I am sure members now realise just how big a project this was and just how much goes into installing a new, modern irrigation system!
On a separate subject, to all those members who consistently give us positive feedback over the condition of the course during the past year, thank you, your kind words are always appreciated.
---
November 2015
New Irrigation System
Our irrigation contractor, Irrigation Control is making good progress with the new irrigation system, having completed the installation of the main line despite very hard subsoil conditions.
They will now focus on greens, approaches and tee installation before working on the new pump house, pumps, electrics and new water storage tank.
Irrigation Control was selected on their ability to complete a professional, neat and tidy contract and we are pleased with their progress to date. I would like to remind members that this is all work in progress and they are fully aware that some areas need to be re-instated, rolled, levelled etc. before completion. Some areas are purposely left to allow ground conditions to improve before returning to those areas to make good.
Members' patience is appreciated whilst the work is ongoing. Rest assured all work comes with various retentions and guarantees to which the Club will exercise.
---
July 2015
14th July 2015
English Women's Open Amateur Matchplay Championship - Preparation
Having recently hosted the English Women's Open Amateur Matchplay Championship, with several other high profile amateur events in the past, together with the up-coming Faldo Series, it might be of surprise to some that no significant additional work goes into the course for these events.
All the greens staff possess great pride in their work and we strive to present the course to the very best standards we can, given the resources available. One of the things we pride ourselves on most is that all members enjoy the same quality of course on whichever day they play. Naturally some days we need to aerate the greens or apply sand, but these vital tasks are all part of the ingredients needed to sustain this wonderful course to be playable for 365 days a year, if at all possible.
Leading up to major tournaments or competitions, whether it be a National tournament, such as the English Women's Matchplay or Captains' Prize Days, all areas of the course are cut to exactly the same height and the course is presented as it would be for any other golf competition at Trentham. Additionally, for each day of the recent Matchplay Championship the bunkers were fully raked and the greens cut and rolled as they would be before any other major competition at Trentham such as Captains' Days or Invitation Day.
I consider one of my strengths being good time efficient management of the course and as such no overtime was worked leading up to the tournament; the staff altered their working hours and did a split shift on Friday (6-10am & 5-9pm) but no overtime was worked other than additional staff in on Saturday morning, just as for Captain's Prize, Invitation Day, Club Championship etc. Recently several Midland courses held Open Championship qualifying and at one all the greenstaff did 44 hours overtime EACH during the week leading up to the tournament!
I hope you find this very small insight into our tournament preparation of interest.
---
March 2015
24th March 2015
Greens renovation has been taking place this week which gives us an opportunity to explain why this work is so important.
The greens at Trentham are traditional, 'push up' greens, meaning when they were constructed (some of them 130 years ago!) they were constructed with a layer of clay to 'hold' water during wet periods in summer as irrigation was unavailable then. Above the clay approximately six inches was then used as the growing material, but this was often soil that was readily available at the time, not the sandy rootzone used today. As golf was traditionally a summer sport then and golfers didn't play in winter, the greens being soft during winter didn't matter, certainly not as it does today.
There is no form or drainage in these greens other than 'lytag' banding carried out in 1999 and 2006, a short term measure of moving water off the greens through a lytag band cut into the turf 8" deep and 1" wide. They are classed as short term as gradually over time the bands become infiltrated with native soils, organic material, and sand and become buried by annual dressings, as well as the lytag itself degrading. The second banding in 2006 is now largely ineffective and as a result we battle during winter to keep the greens playable and to the standard we all expect.
As we balance the needs of the greens against the needs of the members, together with the fact that we don't get large quantities of traffic during winter, it is considered acceptable to continue as we are for now without rushing into a decision on greens drainage. If greens drainage was considered in the future I would prefer a more long term option being land drainage, installed by trenching out every two metres before 80mm pipe was backfilled with 4-8mm gravel/grit and 300mm of sand rootzone over, before the original turf was replaced. This option would last in the region of 30-50 years but at considerable expense. Some might say that the greens are fine as they are and we can live with being a bit softer during winter, a view I could sympathise with, however, the main reason to keep greens as dry as possible is the fact you cannot grow good grasses on damp greens. Our desired bent grass population is declining as each winter finishes and the undesired annual meadow grass, which thrives in wet conditions is increasing. (Bent grass is deeper rooting, annual meadow grass needs more fertiliser and more water, leading to more thatch)
Giving a very simplistic explanation of greens construction above leads me to explain why we core and sand the greens so often. As we have established, the greens are push up with clay beneath and so it is vital we keep the better soils above as free draining as possible. Every day the layer beneath the surface is building organic matter (thatch) as a result of dead/dying material, fertiliser applications, irrigation, rainfall etc, etc. This organic material holds water, slowing down the movement of water from the surface, leading to wetter greens and poorer grasses, then don't forget the fact that the water will stop almost altogether when it reaches the clay at 6 inches! It is this obsession with reducing the organic matter why we have to remove material and exchange it with free draining sand.
We have a target of 150-200 tonnes of sand to get on these greens every year to 'dilute' the organic matter, at the same time as trying to keep the greens putting beautifully and keeping the members happy!!!
The two work windows, March and September allow us to remove material and get good quantities of sand into the greens at once. Late March is selected as the greens have usually dried out a little coming out of winter (as is the case this week) and late September because at that time we also include fertiliser and over seeding with our desired bent grass. Don't forget the bent grass needs at least two weeks to germinate and further time to establish before cold weather comes and we risk losing it, which is why we cannot go any later than we do.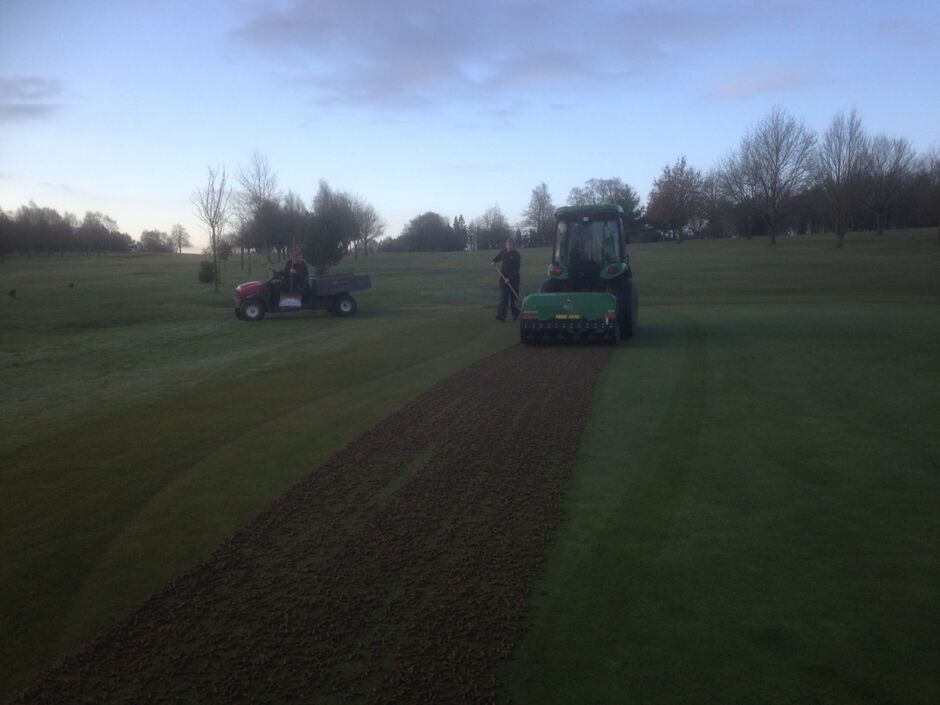 Micro-coring – removing cores 6.5mmby 75mm deep before collecting by hand

Sand applied – 20 tonnes in total this week before another 10 tonnes next week if possible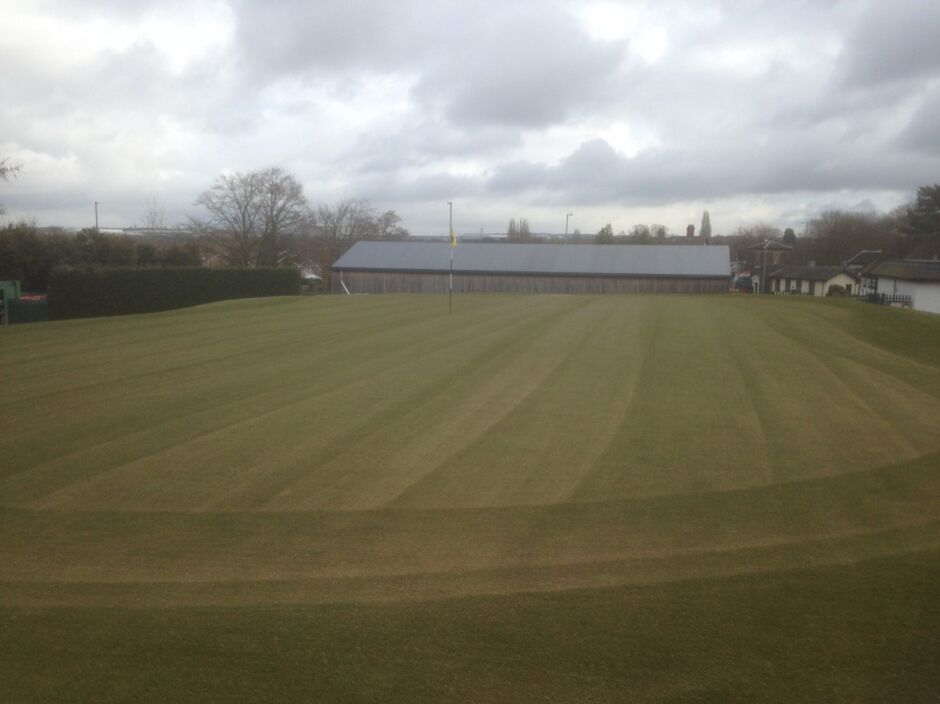 Sand brushed in – all holes filled and the green playable again
Currently our organic matter level in the top 20mm is between 7 and 7.5%, with a target of 4-5% being desired. However, organic matter was at over 10% four or five years ago so we are moving in the right direction despite the banding not moving water away as it was then.
We are to alter our sand application regime this season with greater emphasis on getting more sand on in Spring, Autumn and Winter and hopefully nothing other than light dustings during the season for the benefit of the members and visitors.
---
February 2015
20th February 2015
New and existing bunkers
All the identified existing bunkers needing attention have now been completed, with either banking alterations, as shown below from the 8th greenside left which used to get significant water running in from the top side. By adding a taller face to the bunker we are now diverting excess rain water around the bunker. Other bunkers have had either a liner or drainage added as agreed.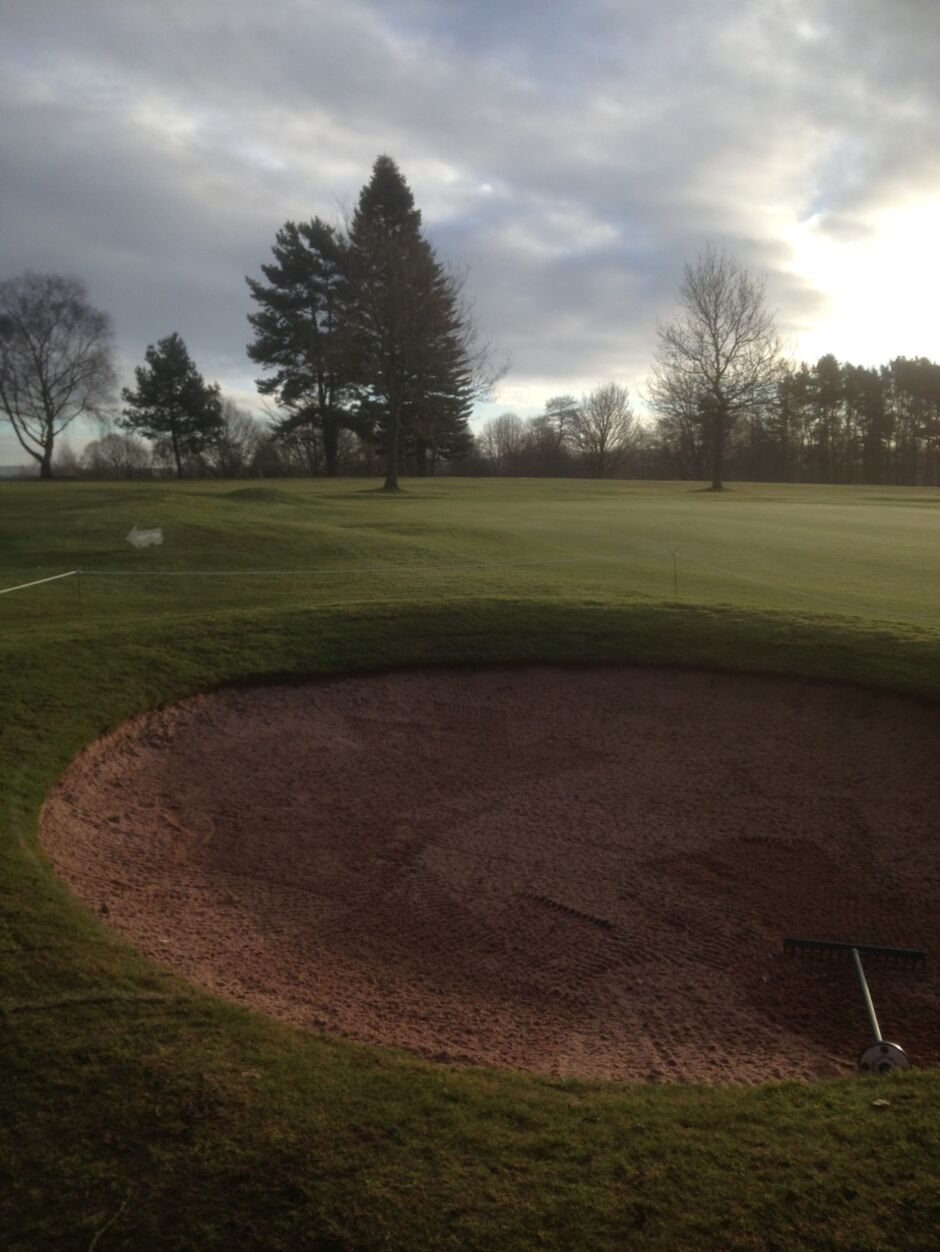 Bunker face built up to stop excess rain water running into the bunker from above.
New bunkers have been added as previously discussed at the 1st (one moved across, closer to the fairway, one extra on the left and both right bunkers filled in. This has had the desired effect of making the better golfer think a little more before teeing off and 'encouraging' all golfers to play further to the right, away from the road and out of bounds.
A new bunker has been added to the 3rd – this is to make the golfer think before hitting driver off the tee and having a straight forward pitch shot to the green. You will be rewarded for hitting the centre of the fairway as the new bunker will not be in the way, whereas you will need a more accurate pitch shot to the green from the left hand side of the hole.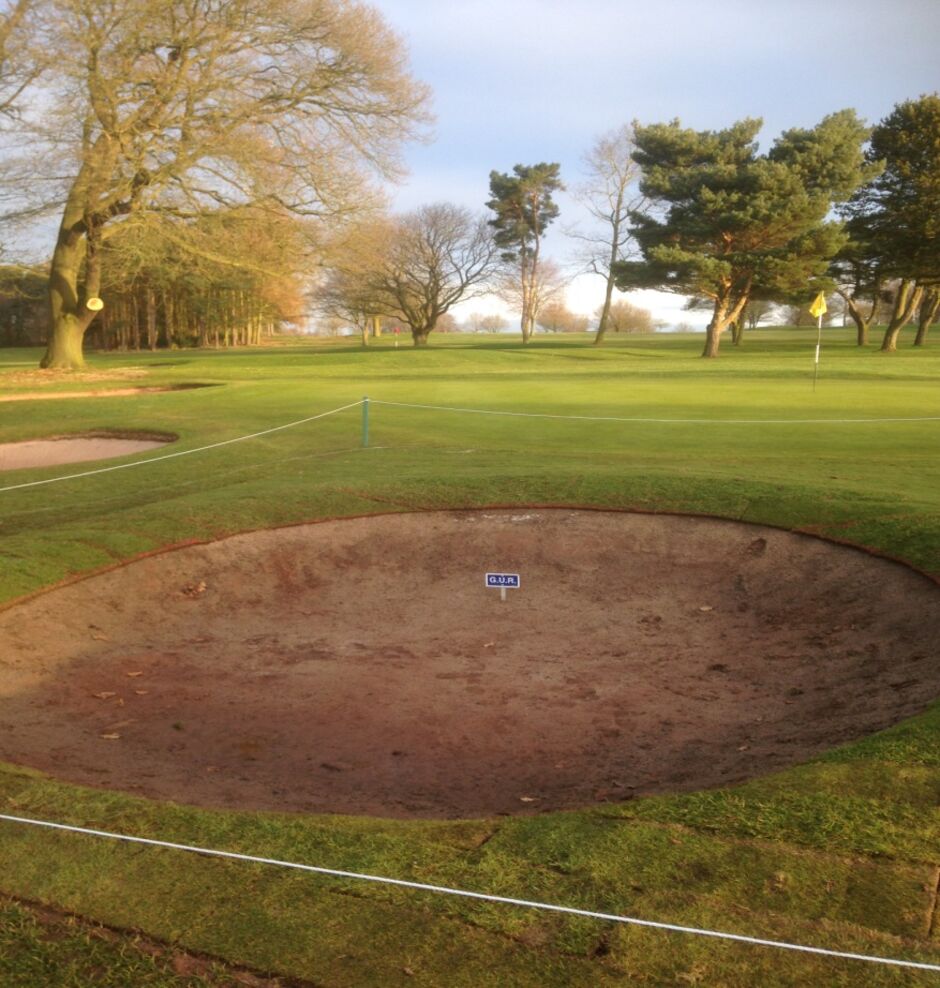 Bunker at the 3rd, designed so it will catch shots but not run in.
A new bunker has been added to the front left greenside on the 9th. This bunker was originally in the wrong place and has been replaced in the correct position as intended. It again rewards the golfer coming in from the centre of the fairway. It will also 'frame' the green when the pin position is located front left for a competition.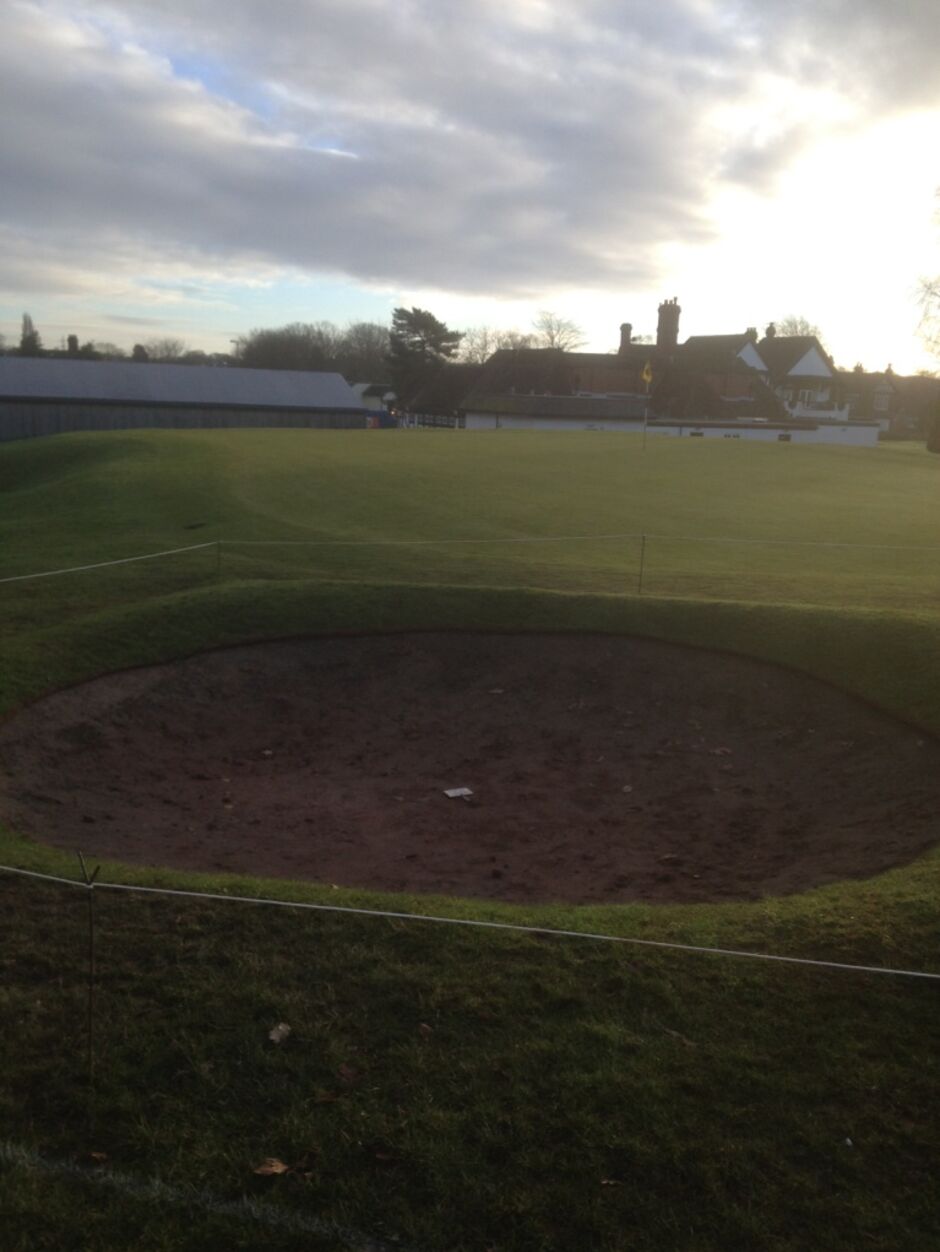 Please note, all new bunkers have had sump drainage added.
Ditch between 5th and 6th hole
There is a ditch running through this band of woodland that is overgrown and full of leaves, debris and self set trees. During very prolonged wet weather this leads to water running over and is partially contributing to the 6th fairway being wet (it is not the only factor). While the excavator is here on site we have cleared this ditch of trees and debris and hopefully this will contribute to the 6th hole being drier in the future.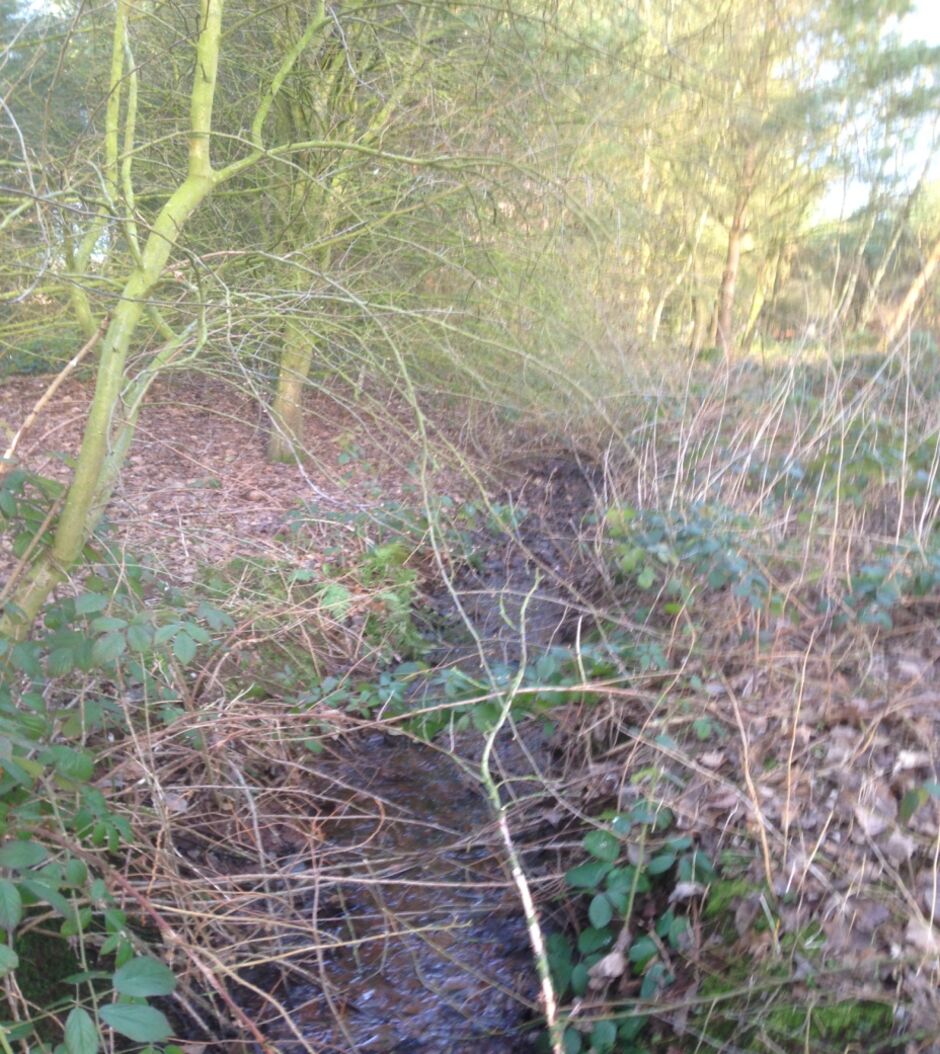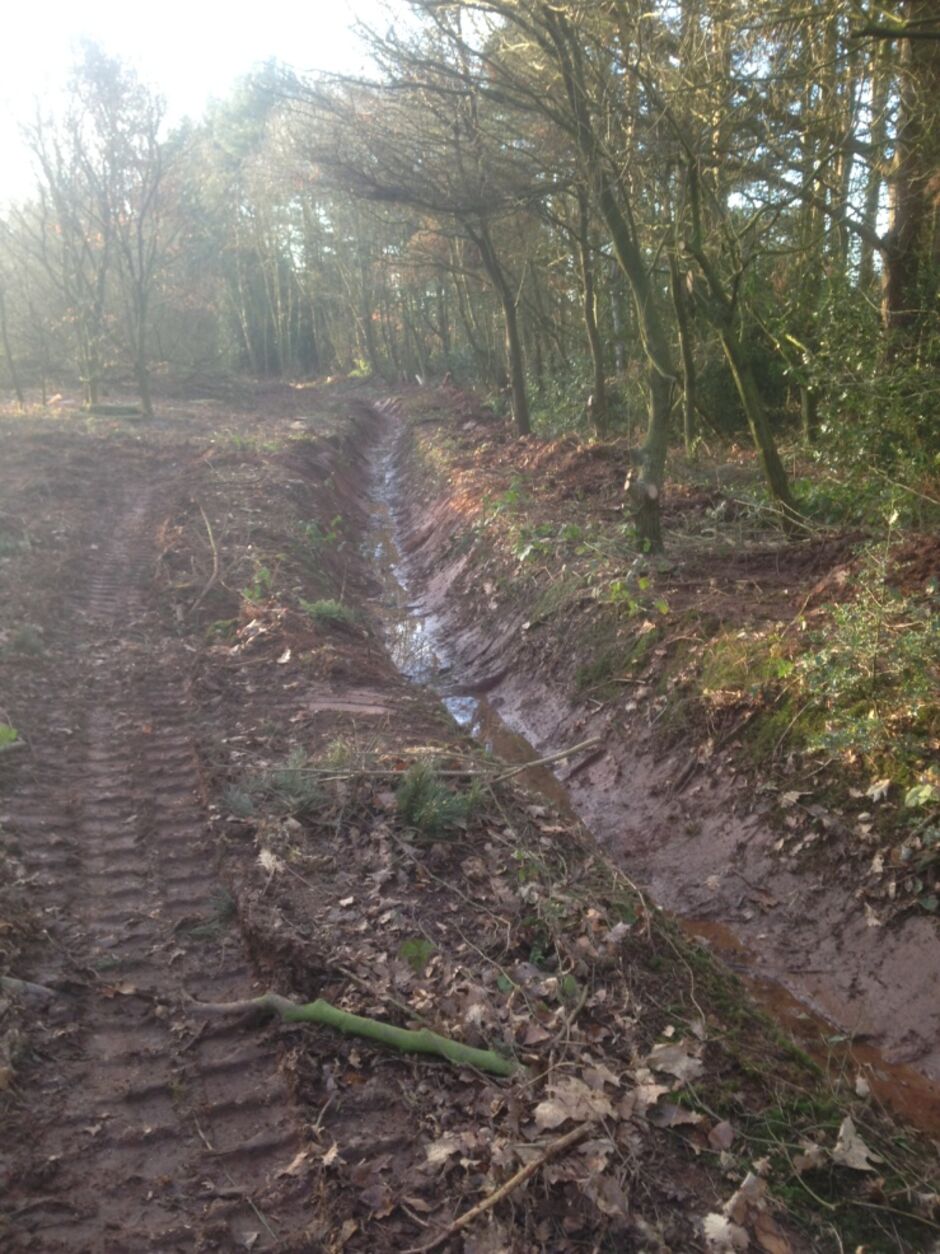 Pictures above show the difference between the overgrown ditch on the left and cleared out on the right.
Hedge to the 1st tee
From Monday 23rd February (next week) we are to remove 40 metres of hedge from the corner to the starters hut. This hedge is predominantly ivy and in poor condition. From a safety perspective we would also prefer this hedge to be slightly taller, which can't be done in its present condition. The hedge and stumps are to be removed before a new fence is erected and an evergreen laurel hedge planted. This will be fast growing and enable us to grow the hedge up to 8 feet tall. This job is slightly awkward as the level between the path and pavement differs by 2 feet.
Although the area might be more open in the short term it will be a big improvement over time and will allow for more room in that currently congested area.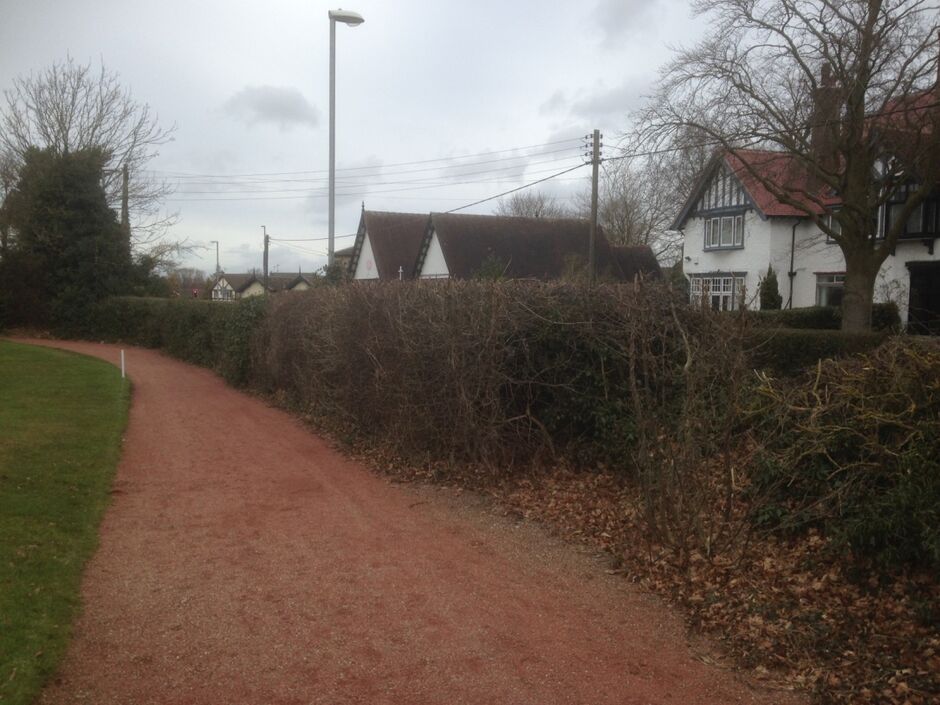 Hedge at 1st tee to be removed and replaced.
6th February 2015
Winter Project Work Update
With the 14th hole bunkers started I thought it might be good to see the progress after a week, for those who have not been on the course this week.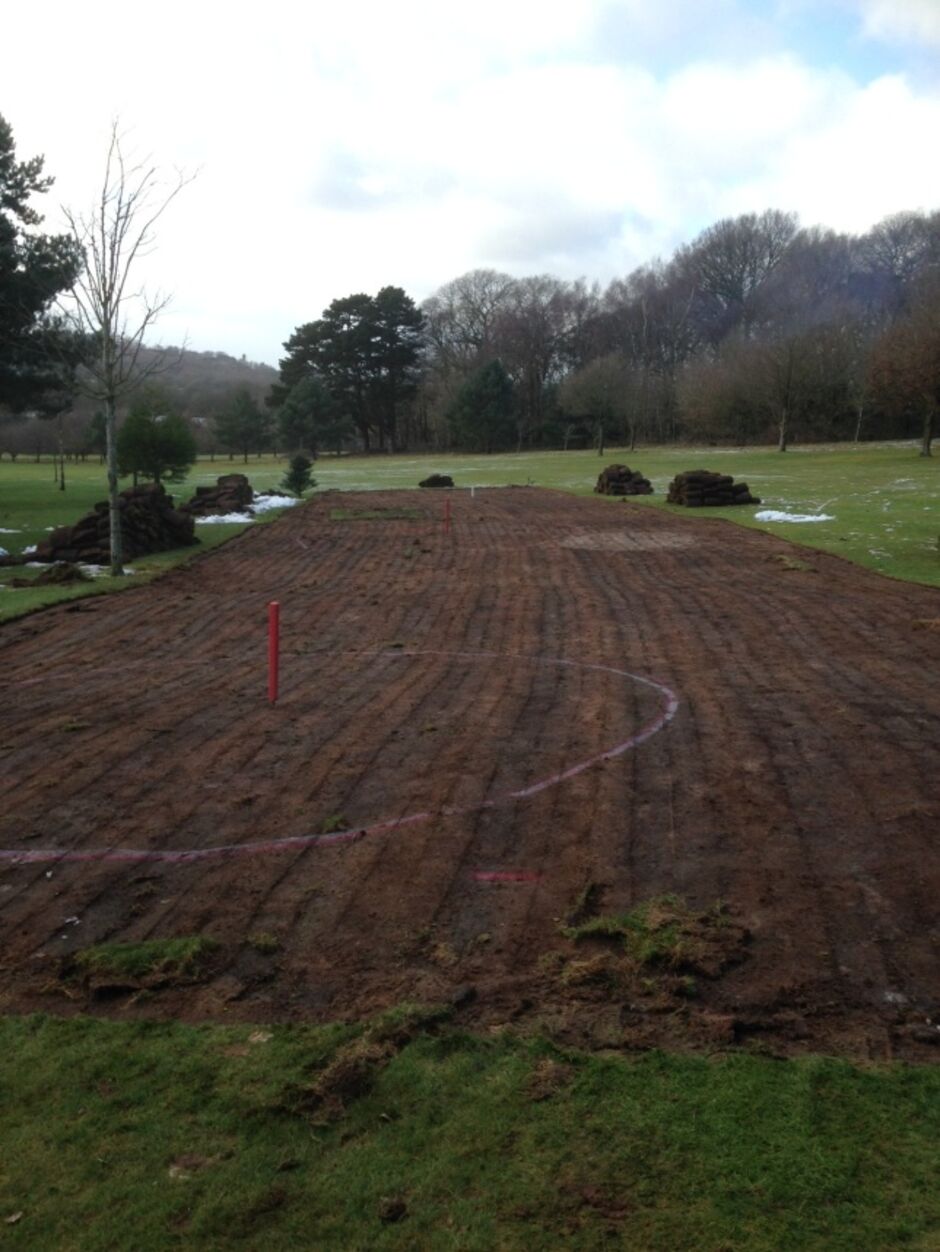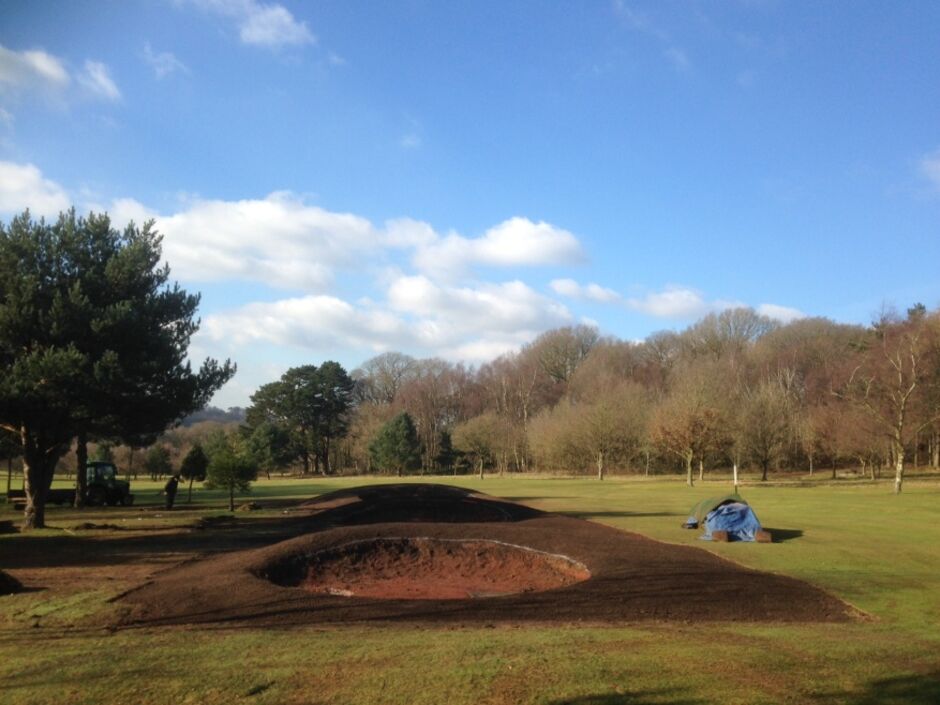 Although the cold temperatures have helped with moving materials, it has stopped us from turfing the area. This will be done next week, weather permitting.
With part of the retaining wall falling over on Saturday 31st January it was decided to make the work of removing the wall a priority. As you will see the difference of removing the trees has made a remarkable difference to the view and light in that area. The turf that was replaced was still slightly frozen so we ask for members' patience while the area is returned to the expected quality.

January 2015
Winter Project Work
The winter project work is underway and this 'course news' is to keep members informed of the work being undertaken and the benefits to the golf course.
Hedge from Club House to 1st tee
It has long been acknowledged the hedge to the 1st tee is in poor condition and has previously fallen into the road. With more protection needed to the church and nursery beyond it has been agreed to remove this old ivy dominated hedge. Once removed a new green fence is to be erected and a new laurel hedge planted. This will no doubt take a little getting used to but will, in time be a great improvement. It will also allow us to grow the hedge up another 2 feet higher thus protecting the road a little more and hiding the view more than at present.
Existing bunkers maintenance
A survey on the bunkers has been ongoing over the past two years, where we focus on specific bunkers needing attention, whether it is drainage, sand replacement, bank alterations to stop water run-off or wash down. This winter we have identified 14 bunkers to receive attention of varying scale. Of those 14 bunkers 7 hold water due to excess rain water running into them from the surrounding area. We have altered the bunker banks where the water runs into them in an attempt to stop this happening.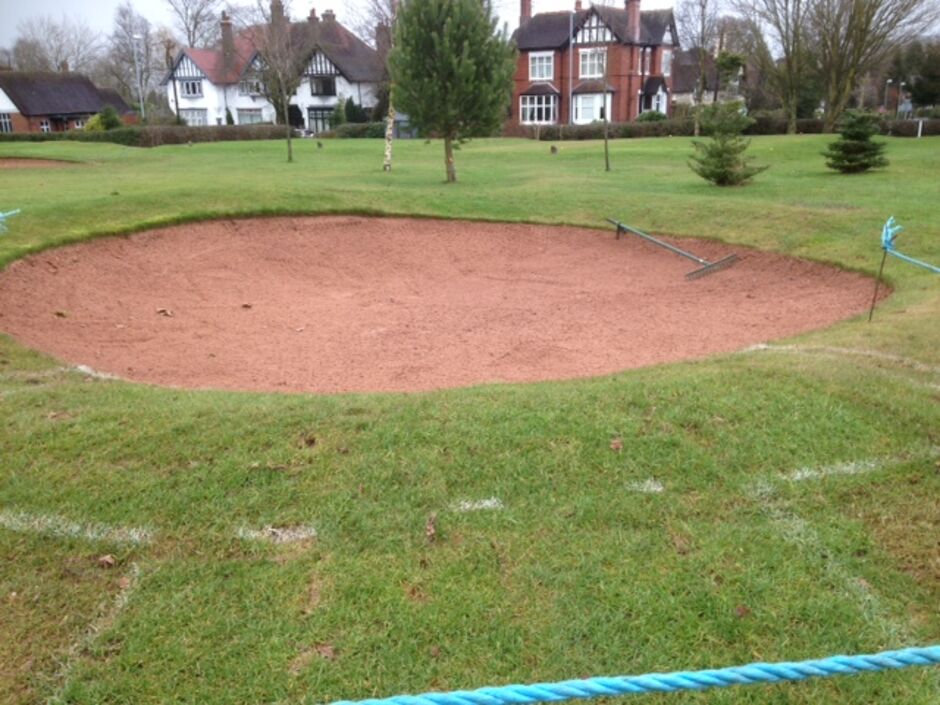 Picture above of bunker at 18th with bank altered to push running water away from the bunker
Bunkers at the 1st (first fairway left and greenside left) have or are having drainage installed to remove excess water into an existing drain and 2 further bunkers are having lining installed to stop water run in from above exposing stones and clay (front two at the 12th) and one at the 9th to stop contamination from below (back right 9th)
New bunkers
New bunkers are being built at the 1st (see picture below, courtesy of James Hilton) which will make the first tee shot more challenging for the better player and further enhance the commitment to our Health & Safety obligation by "encouraging" players to play away from the Barlaston Old Road. By tightening up the left side of the hole we are proposing to fill in one or both of the right hand fairway bunkers, which will give the feel of a slight dogleg to the hole.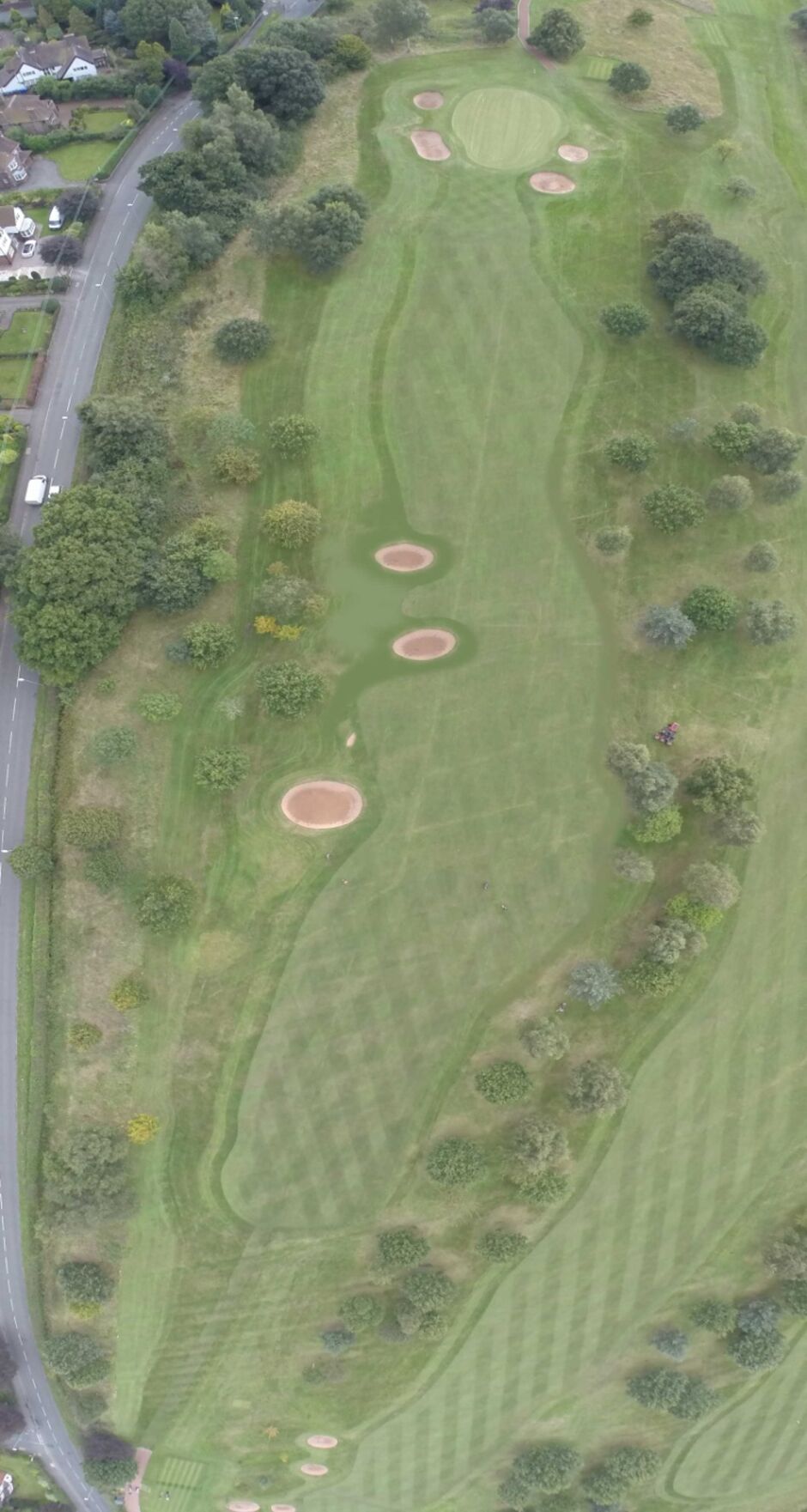 View of how the 1st would look with another bunker on left and removal of the bunkers on right. Notice how the hole now has a dog-leg look.
A new small 'pot' bunker is being added to the front left of the green at the 3rd to frame this very good short par 4.
The bunker short left of the 9th green is being re-introduced, but where it should have been built originally, much closer to the green edge. This will not affect a well positioned shot to the green, but will allow for a very good front left pin position during competition golf that will require additional skill to get close to.
Three fairway bunkers are being added to the dog-leg on the 14th. This is a weak hole to modern standards and these bunkers will demand a more accurate 'risk and reward' tee shot during competition golf. The bunkers are to be 255, 270 and 285 yards from the new 'tournament' tee.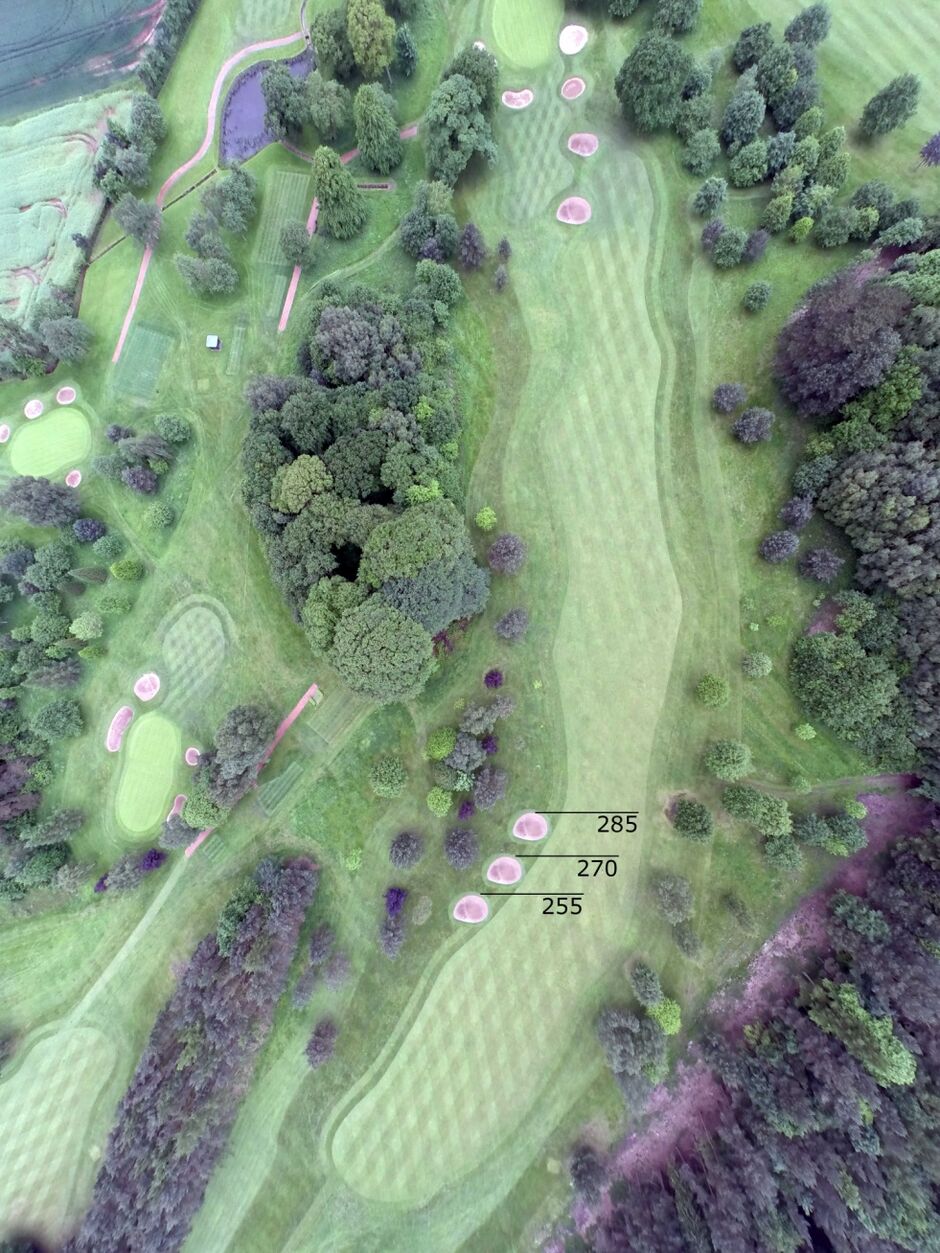 Retaining wall to the 10th tee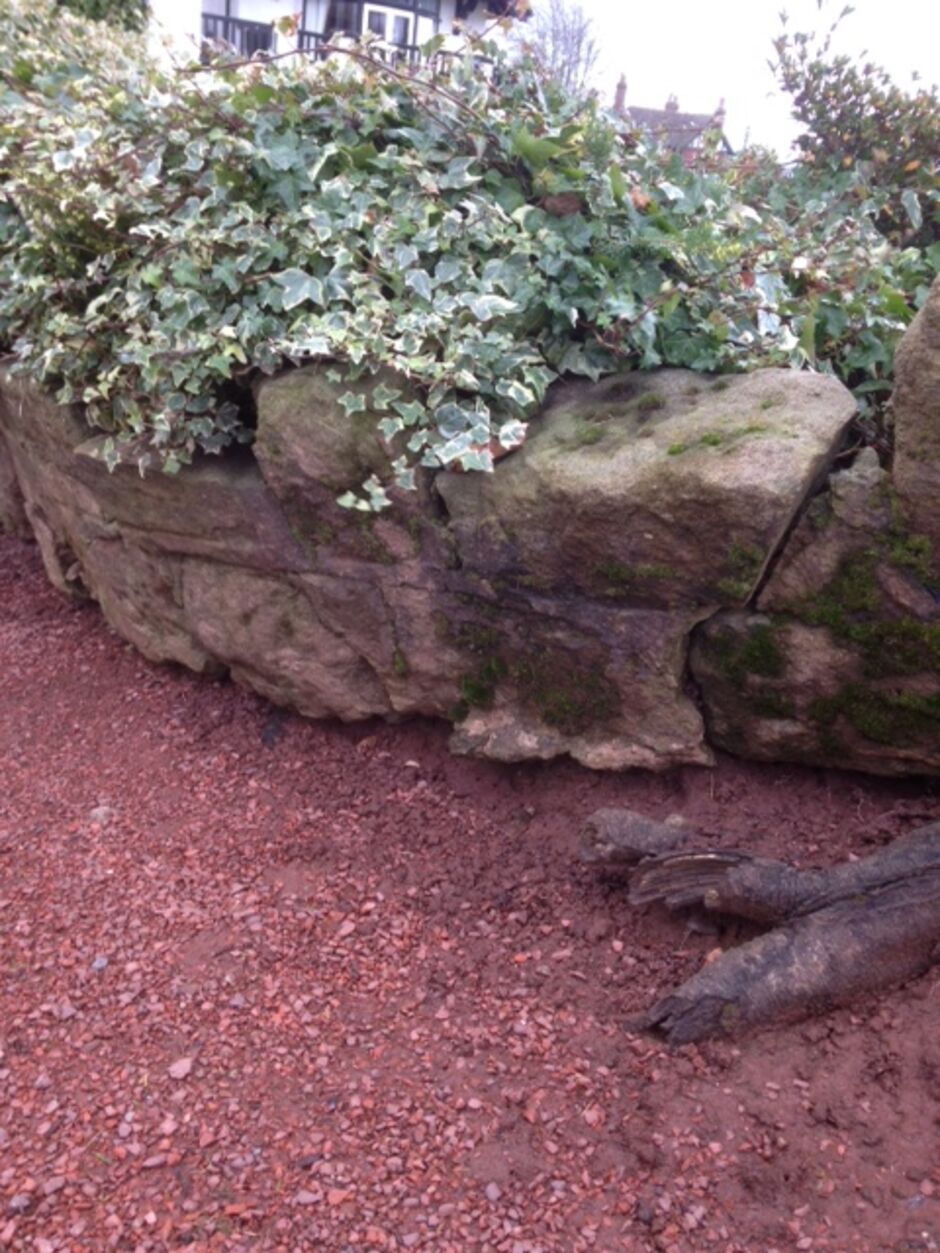 The retaining wall alongside the putting green is falling over and a danger. This is to be removed.
As the wall has been identified as a hazard, it is to be removed and the path made wider with a gradual grass bank up to the putting green. Not only will this remove the current danger it will open up this congested space and allow for traffic to flow more easily. For the work to be carried out successfully the two trees in that area will have to be removed. Once the area has been finished a decision will be made as to whether these trees are to be replaced.
This work on the existing bunkers is part of our plans over the next few years to improve all the bunkers around the course.
The new bunkers are being introduced as part of the 'Donald Steel ' report from 2002 highlighting where bunkers are needed to improve the individual holes.
The programme of work in other areas is to improve the presentation and make areas safe for members and guests.
All the work has been agreed at the greens committee and approved by the Board of Directors.
Ed Stant
Course Manager
---
5th December 2014
Continued tree removal – week commencing 8th December
The following extracts taken from Donald Steele Review of the Course 2002
"Donald Steel and Company (Golf Course Architects) have been visiting Trentham on and off since the 1980's. The poplars that seemed to line most of the fairways dominated memories from earlier visits and the Club cannot be congratulated enough for the bold move to remove them. The course has now been restored to classic English countryside and has been improved immeasurably as a result. There are still one or two alien species around and these should be removed to complete the excellent job."
5th Hole
"The remaining poplars 100 yards short of the green are one of the few remaining example of how these alien trees dominated the character of the course. They should be removed."
The following extract taken from Alistair Beggs (Agronomist to the R&A and Open Championship Committee) STRI Report – February 2014
"Tree & Rough Management
•Some significant work has been carried out on woodland stands around the course over the last 3-4 months with particular progress made to the right of the 11th, left and right of the 14th etc.
• Unfortunately high winds in mid-February brought down some 52 trees with a further 14 damaged. This was unfortunate, but most of the clear-up has already been completed.
• We emphasised the need for the Club to focus on further poplar removal as part of the autumn and winter programme 2014/15. The 6th hole should be a focus for this work."
It is with this professional information available to us that we have made the decision to finally remove the majority of the remaining "alien species" poplar trees on the course. From Monday 8th December we shall be working with a local tree surgeon to remove poplar trees at the 5th, 6th and 13th. This will leave us with one remaining large poplar adjacent to the 6th fairway bunkers, which is to be trimmed back and replacement trees planted, before its removal in the future. There will also be a group of poplars remaining in the woodland between the 5th and 6th, scheduled to be removed in stages over the next few years, enabling other trees surrounding them to establish before being phased out altogether.
This bold step by the Club further demonstrates their commitment to establish this as the "natural English countryside" it truly is, and one I am proud to be working for.
Further course alterations are planned for 2015, to be completed before the proposed irrigation system is installed in the future. Details will follow shortly.
Ed Stant
Course Manager
20th November 2014
Mounding to 16th Greenside
In 2002 a comprehensive review of the course was carried out by the architect firm Donald Steel and Co Ltd, with recommendations for upgrading to modern standards.
Mounding to the left of the 16th greens was included within that report and is being undertaken prior to the replacement irrigation system scheduled for the future.
Members might have noticed this mounding was done some time ago, but it was never very successful, and not sufficient to alter the shape of the entrance to the green. With this in mind we have moved some 100tons of material to the site and mounded ready for turfing.
Hopefully any approach shot within the correct side of the new mounding will feed back onto the green, with wayward shots further left, being punished.
We hope you approve of the change as these are made with careful consideration and with the course in mind.
A copy of the Donald Steel Report is available for inspection in the Office should any members be interested.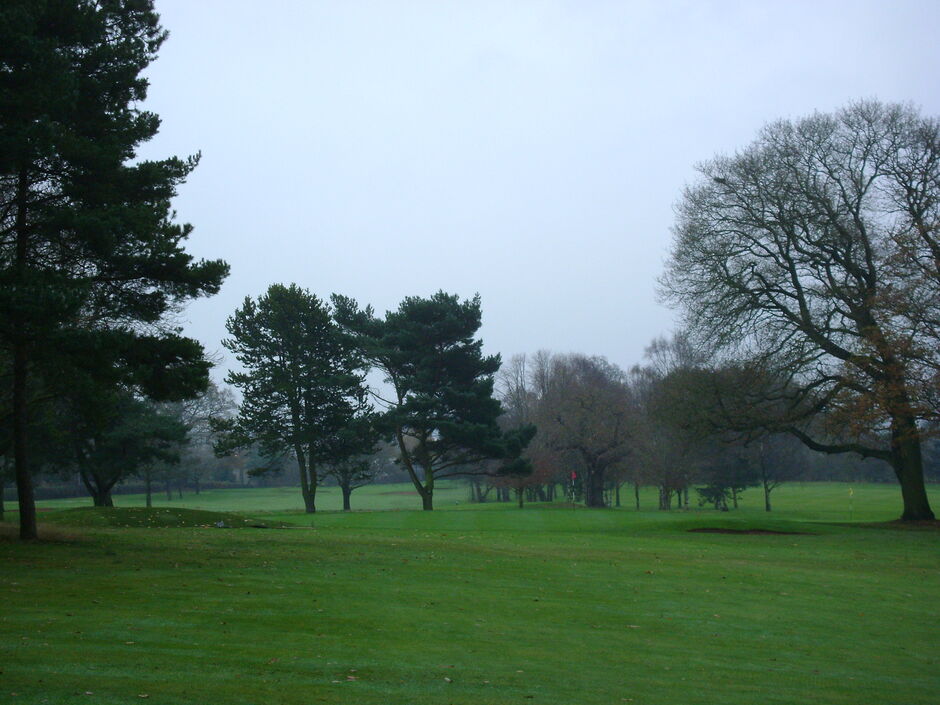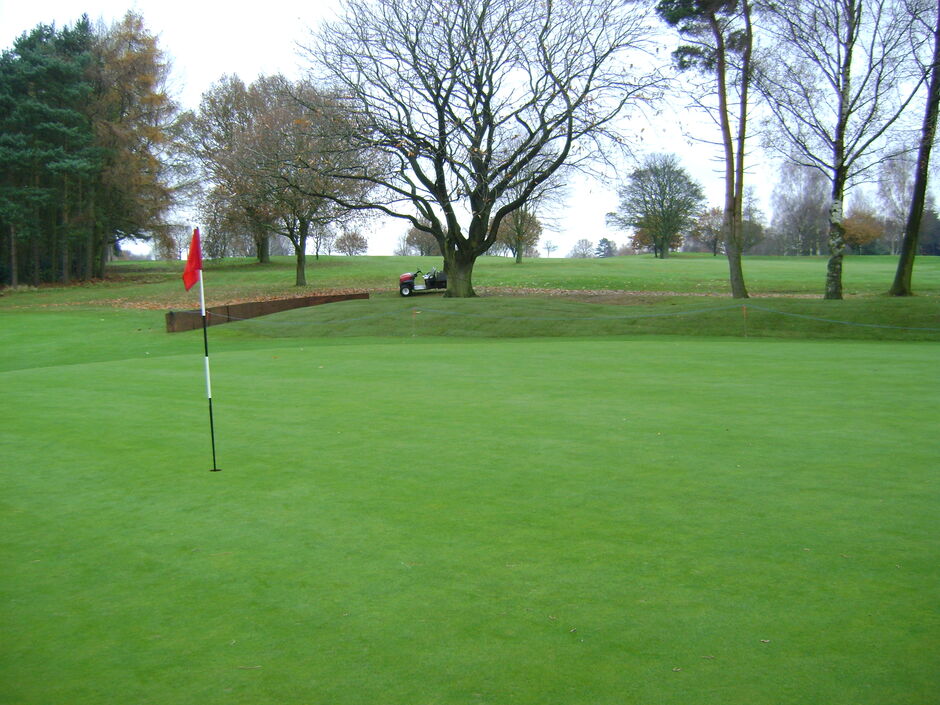 11th November 2014
It has been discussed and approved by the Greens committee to inform members of relevant works undertaken on the golf course that may be of interest, or would benefit from further explanation. We shall be posting course news items from time to time, for information only. It is not intended to be used for discussion but for those who are interested in what we do on the course and why.
Scarification of fairways and approaches
The fairways and approaches have been scarified to a depth of 12mm over the past few weeks. This routine maintenance is scheduled for twice a year (spring and autumn) but is very much weather dependant. Scarification is carried out to remove accumulated thatch within the turf base which can lead to excess moisture being retained on the surface. This not only leads to wet surfaces during winter, but eventually leads to poorer, coarser grasses dominating the fairways which is undesirable. It is worth noting that we have been doing this on the fairways over the past three years.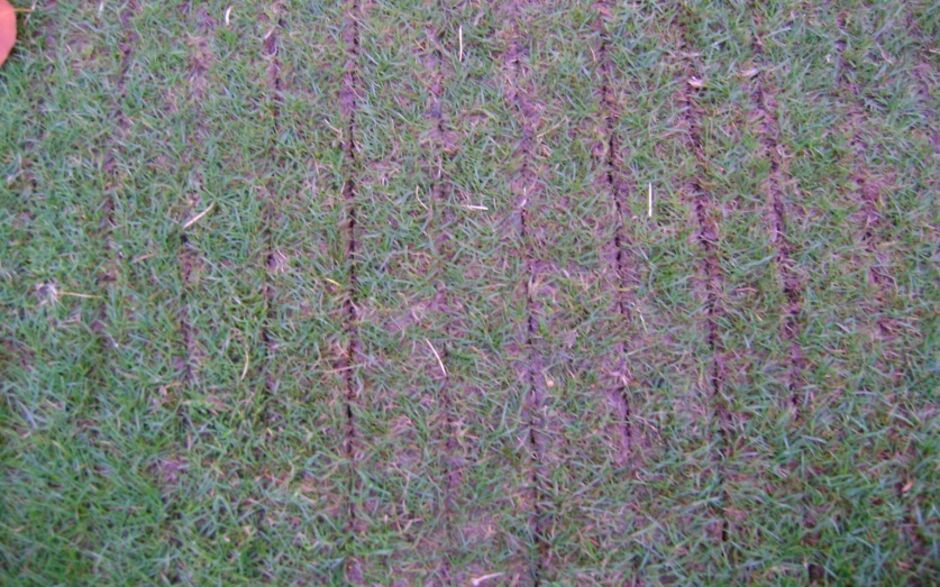 Hollow coring tees
Thatch accumulation on the tees is something that needs increased attention over the next few years. We have just completed the first part of this process by hollow coring all the tees using 16mm tines to a depth of 50mm. This process removes more of the thatch than by scarification (dependant on the type of scarification) and has been followed up with an application of slow release, temperature controlled fertiliser which shall aid the tees through the winter, which is always a difficult task as the majority of the club's small tees are used right through the winter period.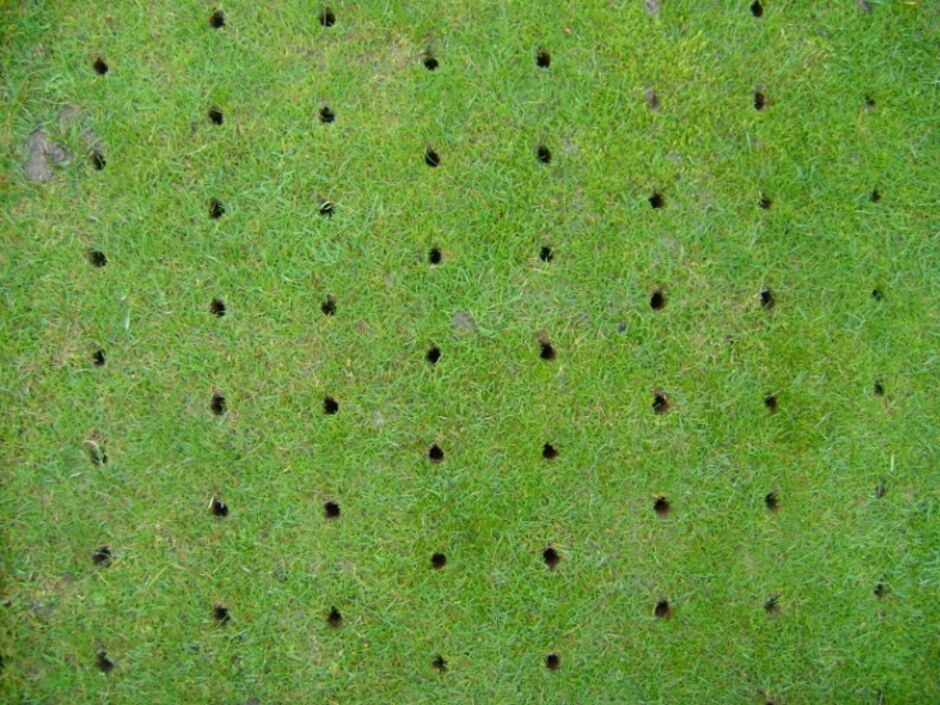 Greens drainage
The greens here have no form of modern conventional drainage. Over the past 15 years the club has undertaken lytag banding twice which aids water from the surface. It is a very effective short term measure that has a life expectancy of between 5 and 10 years. It is accepted that the current banding, installed in the autumn of 2006 is now largely ineffective, having run its natural course. It was always the intention to attempt to get these greens draining well enough through winter without the need for further lytag banding (12k life of 7years average) or conventional drainage (80k life of 50 years). This is not an easy task and the main reason why we have a target of applying 200 tons of medium coarse sand to the greens every year, which not only improves the soil profile but dilutes the organic matter (thatch) content of the greens, which in turn result in better draining, dryer and firmer surfaces.
It takes lots of explanation on why and when we aerate the greens, using which machinery. We have just verti-drained the greens using 12mm tines to a depth of 275mm. I shall go into more detail as to the reasons why next time as I don't want you to get bored on only my first attempt to bring you information!
If any member interested in the technical detail of any of the above may refer to the latest STRI (Sports Turf Research Institute) reports available in the Club Office.
Ed Stant
Course Manager.