Lady Captain presents a cheque to Arch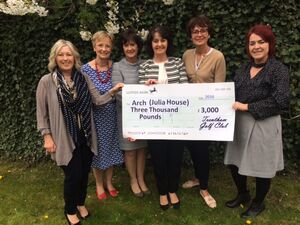 Tina Platt, Pam Dale, Joan Carr, Jacqui Menon, Julie Grant & Donna Boon.
Jacqui Menon our Lady Captain for 2016/17 presents a cheque for £3000 to Arch North Staffs.
Arch connects with people at difficult times in their lives, providing a range of accommodation and support services in Staffordshire and East Cheshire.
Jacqui, with the help from Tina Platt, Julie Grant, Pam Dale, Joan Carr & Liz McGinn managed to raise this money through events organised over her term as lady Captain.
'I am very proud to support this vital work rebuilding young lives and women shattered by domestic abuse and violence in our local area'
The cheque was gratefully received by Donna Boon on behalf of Arch.