Ladies in the 20's
Women's golf was presumably restricted during the First World War in much the same way as that of men. Mrs Tress may have had some part in reviving the Ladies' Club in 1920, for she was made an Honorary Member in January 1923 for her services as Secretary. Nevertheless, Madge Llewellyn and Miss Knight had served as Secretary and Captain respectively during the war period and must have done much to keep things going.
Activities before 1922 are uncertain, but a recovery was clearly well underway by that year, for a regular record of matches was then made. Two teams played four matches against Market Drayton, Beau desert and Wellington, winning two and drawing one.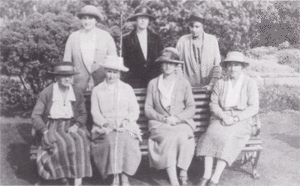 ​
Teams also took part in County events, one winning in 1922 the Williamson Cup run on a handicap basis and another coming second in the Staffordshire Cup. In 1923 the Ladies' County Championship was held at Trentham, for the second time in the history of the event.
The course was described as being in a beautiful condition on the first day, when the individual competition for the Lewisham Cup was played. "Miss Llewellyn (Trentham), having played the first two holes steadily," the local paper reported, "met with disaster at the third…" She still put in one of the best rounds in the morning, and tied for the cup with Mrs Lloyd-Smith, her colleague from Trentham. Mrs Lloyd-Smith won the nine hole play-off. In the team event the two Trentham entries came second and third.
By 1925 a substantial inter-club programme operated with seven games that year, all won, the list now including Oxley Park and Hawkstone Park Clubs. In 1926 Trentham reached the semi-final in an Inter-club competition, losing to South Staffordshire 5 to 4. The busied year was 1927, when two teams played twenty four matches and opponents included Congleton, Walsall, Leek and the Wrekin. In fact, from 1927 to 1932 the ladies had a continuous run of success, especially in County competitions, winning the Staffordshire Cup in 1928, 1930 and 1932, and the Williamson Cup in 1928, 1929 and 1930 The 1928 County Championship was held at Trentham and the A Team had a great victory, winning the County Cup for the lowest gross score. This had been secured by South Staffordshire at every event since 1921. The Trentham team was Miss Llewellyn Mrs A E Parkes and Mrs Wood. This may not have been the best trio for Mrs Leonard Jones, the Club and County Captain, was still recovering from an illness and unable to play.
Winter Golf at Trentham Golf Club
Monday 29th October 2018 to Sunday 31st March 2019 inclusive
Call our Professional for tee availability on +44 (0) 1782 658109 option 3
Single Green Fee weekdays excluding Bank holidays £45 per 18 holes
Single Green Fees on Sunday and Bank holidays £55 per 18 holes
Special weekday offer excluding Bank holidays - Three ball £120 and Four ball £150
FINE GOLFING AND OUTSTANDING HOSPITALITY