Riding out the Storms
The security of the Club depended on leases, not the one direct from the ducal estate, but those from two tenant farmers. The Sutherland fortune was not what it had been even in the early 1890s, and in 1905 Trentham Hall was abandoned as residence and then, in 1911 torn down. Threat of sale continued to hang over it, and land sales for house building in the village suggested that the days of the entire estate were numbered. Club members were anxious to improve their course, however, and to extend the Club House. None of this was worthwhile if half the land might be lost when Ash Green Farm changed hands. Not only was this a possibility in 1912, but in June 1913 when the fourth Duke died still more uncertainty threatened.
Plans for extensive modernisation of the course, including new greens, were drawn up on the advice of an invited expert, Mr Fowler, known for improvements at the Westward Ho course of the Royal North Devon Club. Mr Scrivener, a Hanley architect and member since 1904, prepared a scheme for extending the dining room and Professional's workshop, providing a shelter for the caddies and a vestibule for the door leading on to the course. At an extraordinary members' meeting on 29 November 1913 all was explained and methods of financing debated. J C Bailey offered help, but Mr Webb, as Secretary, doubted whether the Club could afford both improvements simultaneously. There were uncertainties about land leased from tenant farmers. A small additional area for the Club House was subsequently leased direct from the Duke's estate, in May 1914, but Webb proved correct in anticipating opposition from the farmers. There were also objections to subscription increases and queries about raising enough capital from donations. In April 1914 the Club House changes were dropped and by October so were the course improvements.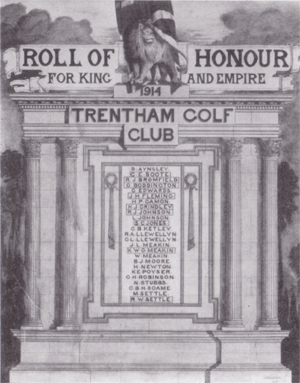 Two changes did take place during that momentous summer of 1914. The professional, Leonard Lees, formerly of the Newcastle club, was asked to leave on the grounds that he had insufficient experience. He had only been appointed in May 1913 to succeed Jim Adwick. The new man Ralph Hughes from Meir Golf Club, had been a member of the PGA since 1904, and came in September for £1 per week. The decision wasalso taken to appoint a paid Secretary for the first time, at £6o per annum with free lunches and teas. E H Powell, a founder member and leading player, was given the Post in July. Walter Webb remained as Honorary Treasurer.
The cataclysms of international conflict scarcely surface in the Minute Books of the Golf Club, but the European war had an impact nevertheless. In August 1914 an immediate ten guinea donation went off to the Prince of Wales War Fund; in April 1915 two Belgian refugees were made temporary members; gifts were made to Red Cross Funds, and Army Medical Officers seconded to North Staffordshire were admitted on special terms. Wartime licensing laws forced the bar to close at nine o'clock in the evening. The Management Committee recorded in November 1915, before conscription had been introduced, that "whilst the Committee appreciate the efforts of Hughes they feel that he should now offer his services to his country and they guarantee that his position shall be kept open for him to the end of the war." Powell, at the same time, accepted a salary reduction to £30 a year.
In fact, wartime conditions, especially rising food prices and wages, put severe pressure on Club funds. Powell had been appointed to help reverse a deficit, which he did in the short term. But there was something of a crisis before the end of 1915 and the loss in 1916 was three times that of 1914. Competitions and prizes were reduced, Powell's salary cut to £15 and that part of the course rented from Mr Critchlow temporarily handed back to help with the war effort. Before the Armistice bought peace, Powell resigned, the question of people with alien parentage using the Club was discussed and one member debarred, and those serving in the Forces and killed in action honoured. This last event, in October 1918, took the form of an "informal meeting of members ... to receive a Roll of Honour …" which had been designed and executed by Mr J S Redman, an architect and member living at Stone. This found no permanent resting place unfortunately, until rediscovered during research for this celebratory history. It listed twenty five names of men who were members of the Club or sons of members, nine of whom appear to have been killed in action.
Although in some respects the Club sought to return to normal its rapidly as possible after the war - discussions were held as to the feasibility of' re-opening the full course and improving the Club House before the end of November 1918 - the effects of war continued to be felt.There was a view that the Club was run down and needed refurbishment, but, more importantly, the war had probably postponed the issue of security of tenure. 1919 it quickly became clear that the Sutherland estate would go for auction, and the entire future of golf at Trentham was in doubt. If farms held by Critchlow and Brookes went to unsympathetic purchasers there would be no point in spending money on Club House or course alterations.
Hughes was accepted back in February 1919 at £2 a week until he could earn enough in his shop to warrant a reduction, and the issue of having another paid Secretary was postponed. Attention was concentrated on discovering whether Mr Brookes would be able to buy his farm, or whether members could raise the asking price Of £15,800 Plus £700 for standing timber to purchase the entire site as used since 1904. The idea of forming a limited company was rejected, and the option of negotiating a further lease directly from the Estate Trustees adopted. It was not until the end of July 1921 that the prospect of an agreed settlement was assured. Even then it was at the hugely increased rent 218 acres, and somewhat reliant on the Estate Agent's promise that a ten year option to end the twenty one year lease would not, in fact, be used.
There was no obvious celebration of the Club's twenty fifth anniversary in 1919 but like most English social institutions it entered a new phase in its history in the early 1920s. Once they were secure in their Premises, Trentham Club members were able to turn to making the most of the changed society around them. Ducal Trentham was no more; this was the era of the 'bright young things'.
Winter Golf at Trentham Golf Club
Call our Professional for tee availability on +44 (0) 1782 658109 option 3
Single Green Fee weekdays excluding Bank holidays £45 per 18 holes
Single Green Fees on Sunday and Bank holidays £55 per 18 holes
Special weekday offer excluding Bank holidays - Three ball £120 and Four ball £150
PLEASE NOTE – Smart Parking will be operating on our carpark.
This automatic number plate recognition system requires TGC visitors to enter their vehicle registration details into one of the keypads located in the Pro-shop and the Clubhouse foyer before leaving the premises to prevent unnecessary fines.
FINE GOLFING AND OUTSTANDING HOSPITALITY