Ten Years Old
The nine hole course was leased from one of' the Duke's tenant farmers for less than £40 per year. A modest wooden pavilion had been erected just behind cottages at Ash Green late in 1896, or early the following year, with help from John Hartley, and sketches exist for alterations proposed at some stage to enhance the facilities. It was large enough to hold annual general meetings, but catering provision was restricted. For extensive improvements longer tenure was required and by 1903 the Management Committee, on the basis of increased income, was ready to make a bold move.
The Entrance Fee initially was a guinea for men and ten shillings and six pence fin- ladies [£1.05 arid 5,3p]. This and the yearly subscription - two guineas for men - yielded a sufficient annual profit to encourage planning for a full eighteen hole course and a brand new Club House. By recruiting new members and raising the melt's entrance fee to three guineas in 1903 income was boosted by 60% in four years to reach £372. This was considered enough to secure a £1,250 mortgage with the Leek and Moorland Building Society to finance a purpose built, substantial Club House facing Barlaston Old Road. This contained a dining room, bar, locker room and quarters for resident staff and could easily be sold as a home should the Club fall on hard times. The land was leased for ninety nine years direct from the Trentham estate and was thus treated separately from the course.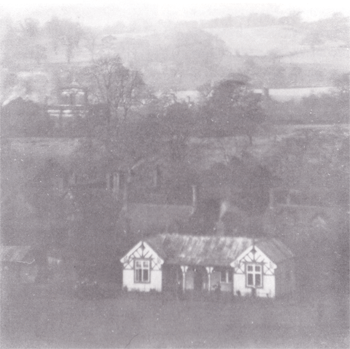 At the same time more land on the Ley was leased from another of the Duke's tenant farmers to allow an extra nine holes. This put the Club on a par with others in the county, for example that at Milford near Stafford which had been designed as an eighteen hole course from its inception in 1894. There was no rival in the Potteries even before the splendid new Club House was built, for the Burslem course had fallen into disuse.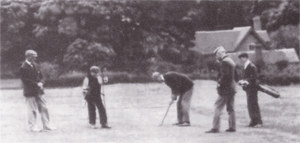 The building of the new Club House and extension to eighteen holes in 1904 marked the end of ten years of cautious development, and in the context of Edwardian certainties when golf was booming, suggested that Trentham was firmly established as a leading Staffordshire club. To celebrate the event an exhibition match was arranged on Tuesday 31 May. Two internationally respected golfers, James Braid and Alexander Herd, were invited to go round the course twice to set a new standard of play for the Club. They were in the class of Harry Varden and J H Taylor as Championship professionals and nobody quite like them had been to Trentham before. The weather turned out to be dreadful, rain falling all day making spectators and players most uncomfortable. Braid impressed in the morning, despite the wet grass, being the more powerful driver. Herd, nevertheless, came in two strokes up, but by mid-afternoon the match was all square. The large number of members and visitors following play saw a tight finish for the competitors managed to be equal at the last hole! Braid took that to get the prize presented to him by the Rev Pigott with a score of 149 to 151.
Winter Golf at Trentham Golf Club
Call our Professional for tee availability on +44 (0) 1782 658109 option 3
Single Green Fee weekdays excluding Bank holidays £45 per 18 holes
Single Green Fees on Sunday and Bank holidays £55 per 18 holes
Special weekday offer excluding Bank holidays - Three ball £120 and Four ball £150
PLEASE NOTE – Smart Parking will be operating on our carpark.
This automatic number plate recognition system requires TGC visitors to enter their vehicle registration details into one of the keypads located in the Pro-shop and the Clubhouse foyer before leaving the premises to prevent unnecessary fines.
FINE GOLFING AND OUTSTANDING HOSPITALITY