Leading Ladies
The first three Trentham ladies to gain a wider success, even before 1914, had been Miss Magdalene Llewellyn, Miss Nadin, and Miss H Clive who came from Gravenhunger, Woore. All three played for Staffordshire on a number of occasions after 1907 and paid subscriptions to the Club in their own right. Madge Llewellyn's career as a golfer spanned the whole interwar period, but she was most notable for her second place in the County championship in 1923, membership of the Club A team which won the County cup in 1928, and her role as County Captain in 1931. In January 1945 she was made air Honorary Life Member.
In the early 1920s Mrs Deaman, who served a first spell as Ladies' Secretary for ten years, was among the regular members of' teams put up against other Clubs. Like Mrs Nellic Wood, she first joined before 1914 and had a very long association with the Club as player and organiser. Both she and Mrs Wood, who was married to Elphinstone Wood, the business partner of Harold Goldstraw, were dependable and much respected for what they did inside the Club rather than for being winners of representative honours.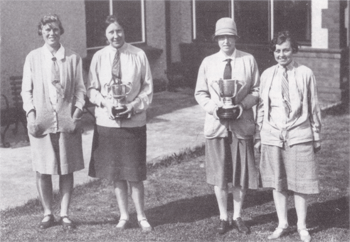 By 1927, Mrs A E (Joan) Parkes had joined the leading group of players and she, too, made a big impact on the ladies' Club. Her mother was a Club member, and her Step-father, T B Roberts, a bank manager, was a Committee man from 1915 to 1943. She served as Honorary Secretary in 1926 shortly before her marriage to Dr A E Parkes who became a member in 1925, In due course their son, Tony, joined the Club and served as Captain in 1978. Joan Parkes started her County career in 1927, and played in the first team until 1939. Several times she was second in the County Individual Championship in the era dominated by Miss Dobson of Brocton Hall, but she won this honour twice, in 1932 and again in 1939. In 1937 Mrs Parkes was Staffordshire County Captain, and although not the first Trentham member to be so honoured, she probably reached the highest levels of achievement of any Trentham lady, before the Second World War.
Winter Golf at Trentham Golf Club
Call our Professional for tee availability on +44 (0) 1782 658109 option 3
Single Green Fee weekdays excluding Bank holidays £45 per 18 holes
Single Green Fees on Sunday and Bank holidays £55 per 18 holes
Special weekday offer excluding Bank holidays - Three ball £120 and Four ball £150
PLEASE NOTE – Smart Parking will be operating on our carpark.
This automatic number plate recognition system requires TGC visitors to enter their vehicle registration details into one of the keypads located in the Pro-shop and the Clubhouse foyer before leaving the premises to prevent unnecessary fines.
FINE GOLFING AND OUTSTANDING HOSPITALITY